GPWA TIMES | GPWA Affiliate Interview
INTERVIEW WITH Robin | GamTrak
For GamTrak's Robin, the best things in life are free!
How did you become interested in online gambling?
I would occasionally visit Las Vegas and Atlantic City, so when I ran across a pop-up or banner for an online casino that was offering a no deposit bonus I decided to play.
Once I had accounts at about 15 casinos. I decided to store my casino information in Access. One day I was reviewing a report that I created of my casino database and it dawned on me that other players may benefit from using something to keep track of casino activity along with user names and passwords in one spot.
What attracted you to the industry?
Since I had my GamTrak software idea, I figured that it would be a good avenue to pursue. I also liked the idea of working in an industry that provided an opportunity to make a good income with what, I thought at the time, would be little effort.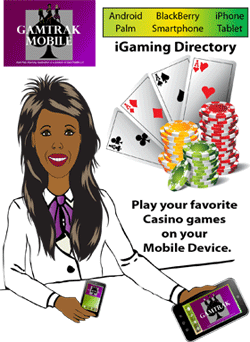 How did you get started?
I used MS FrontPage to build my site. I had no previous experience with the software so it was a challenge at first, but eventually I began to enjoy it more each day.
One of the things that distinguishes you from other affiliates is you offer your own software (via download). What does the software do?
GamTrak is a free application that will store personal online casino gambling information and contains no spyware or ads. You can save information and print out a report that lists user names, passwords, balance, payment method used and more. It has over 200 links to casino, bingo, poker and skill sites.
What prompted you to develop and offer the software and how has it helped your business?
A major factor was having to contact casinos to get my login information, which was a pain, so I decided to create a tool that I felt would be very useful to the online player. Once it was done, I discovered that I needed a way for the application to be downloadable via the Internet so I decided to search the net for a programmer to help me.
My goal for the GamTrak software is to offer it to fellow affiliates and allow them to use their affiliate tags and give it away to their players.
In the beginning it was the core of my business, but after I created my forum, that became my first joy. Offering the software has been a way for me to collect a targeted database. The fact that it's free is a good way to attract those who like to try free things and may find that they enjoy playing at online casinos.
What prompted you to start offering forums and have they lived up to your expectations?
Initially I created a forum in order to provide technical support and assistance to those using GamTrak software and I don't really remember when that changed. Shortly after I began playing online I found ezboard forums.
I began to participate in contests and other things, so I had an idea of how it worked. My one fear was the fact that I don't have the "gift of gab" and find it hard to come up with a ton of words to express myself, but it has not been an issue.
The forum has definitely lived up to my expectations and more. I started out on ezboard, but my forum was hacked and completely wiped out forever due to the fact that ezboard did not have a backup and I lost 1,700 members. I started over by viewing cached files on Google and other search engines, but then in 2005 ezboard was hacked and I lost everything again.
I decided that vBulletin was the best forum software to use, so in June 2005 I started from scratch for a third time in four years. As of today I have over 7,500 members, a staff of six who work daily at the forum, and my mom takes care of bookkeeping and affiliate program data.
You mentioned in the forums that you quit your "day job" several years ago. What were the reasons behind this decision?
I knew that if I was ever going to accomplish my goal of being self-employed that this was the best way to do it, so I took the leap of faith. Each month I would pray to just earn enough to pay my rent, utilities and food.
After awhile I was able to start saving money. One month I made so much I decided to get a CPA to create a Limited Liability Corporation and not worry about Uncle Sam
.
One of the things that kept you in online gaming was the love you have for your site. Can you explain what that love is and where it comes from?
Being that I had no kids and got married for the first time in 2006 I've never really had something that I created or that was mine and only mine until GamTrak software. It was like my baby, but more important it was my livelihood.
My forum members are like an extended part of my family. I feel good when I see how they interact during competitions as well as helping to keep each other informed of the promotions, and that helps me to overlook the negatives.
How long did it take for you to start earning money?
It took me about a year before I made any money due to the fact that I was clueless about what it really took to be successful. When I started I thought that the money would come rolling in quickly, but when it didn't I was already committed to staying the course.
How (besides UIGEA) has the industry changed from when you first started in 2001 to now?
The terms and conditions for bonuses have really been ruined by the no deposit offers, so I personally would never take a bonus due to the fact that I don't want any restrictions on my deposit.
If you had to pick five keys to success as an affiliate, what would they be and why?
Patience – it takes time to build a player base in order to make money.
Honesty – don't try to cut corners by taking advantage of someone else's work.
Set Goals – find a niche and learn as much as possible. Don't try to do everything out there. Don't cheat yourself – invest whatever it takes in tools that will aid you with your business.
Contribute – be willing to help newbies in the industry. Beside the obvious, it helps to keep up on the latest technology.
You are relatively new to the GPWA. What prompted you to join? And how has it helped you so far?
I found GPWA in 2003, but I was a lurker for a couple years. I applied for private membership about three times before I was approved in the fall of 2007. I spent the majority of my time in the Freshman Forum.
Once I gained access to the private areas I was extremely excited and spent hours searching, sorting and reviewing past threads in General Chatter, Private Polls, Prospective New Members and Tech Talk, SEO and the Marketing Info forums.
Do you gamble online?
I enjoy playing craps and poker equally. When I first found online gambling I went through a phase where I'd play almost every other day or so.
Once I began working in the industry I cut back due to the lack of time. In 2003 Casino Blasters offered to build me a branded poker skin, which I named GamTrak Poker. That got me back online daily for awhile because I fell in love with Texas Hold'em.
Since 90% of my staff gamble online frequently, they provide me with reviews of the various sites so I don't have the worry of advertising a site that is not treating the players right. This is one reason that I hand picked them while they were members.